I've often said that I don't care for historical novels and don't read them much. It's true that I don't seek them out, (except for Liz Curtis Higgs' books) but I have read a fair amount of them recently for review. And they've been good. I've enjoyed them.
I finally put a finger on why I thought I didn't like them.
When the author interrupts the narrative flow of the story to teach me something, I don't like it. That seems to be a failing of historicals in general.
But all of these were good.
Whisper on the Wind by Maureen Lang.
I had no idea until I just went looking for a photo of the cover to insert that it was second in a series. It's set in Belgium during World War I and kept me reading and interested.
------------------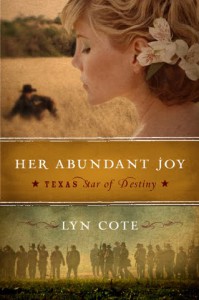 Her Abundant Joy by Lyn Cote is set in Texas in the dawn of statehood. There are compassionate and protective Texas Rangers, beautiful and wounded widows, and true love. It's the final in a series. I had not read any of the other books and was able to figure out what was going on and to keep the characters straight.
------------------------

Still House Pond by Jan Watson is a gentle story that reminds the reader that even the "simpler times," weren't so simple and that God is sovereign and trustworthy.
----------------------
The Homecoming by Dan Walsh is set in WWII. It's a simple tale of love, loss, and life that continues in spite of the grief.
--------------------
I'm now not so quick to dismiss a historical as something I don't read because of these books and others like them.