Bittersweet Surrender by Diann Hunt.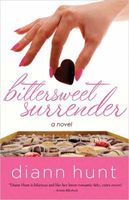 Carly Westlake owns a chocolate spa. She's recovered from losing a breast to cancer but she's not quite recovered from losing her husband to a younger, whole-er woman. She's recently lost her best friend and co-worker in the spa in an accident. Her father also died and her elderly stepmother is moving in. Her life is stressful. She's also been emailing a new man … sort of. Her brother's best friend, Jake, whom she had a crush on when they were younger. Jake is moving back to town with his teenage daughter. Carly's brother's marriage is shaky due to her brother's C.J.'s drinking and gambling. Did I mention Carly's life is stressful? Her best friend who died, Ivy's husband, Scott, is helping Carly figure out her finances and why a spa full of customers isn't making money.
If that sounds like a lot, just try being Carly.
It all sounds like the perfect setup for a fun, lovely, sweet book.
I can only give it about 2 stars. If that.
I didn't love it. Which even I find hard to believe since it's got all the elements I love in my fiction. Chocolate. Romance. Fun. Purses. Chocolate. A spunky heroine. Chocolate.
But the elements didn't mesh for me. Carly came off more irritated and petty instead of spunky at the beginning when her stepmother moved in and Scott volunteered to help her lose some weight by working out with her. She was resentful and childish.
The book wasn't edited well. At one point, Carly uses a deep breathing technique that she learned in her Christian yoga class. Later, she's at a class with her sister-in-law, but all of a sudden it's Carly's first time at the class. The next day she's sore, again from that first time.  If it was her first time, where did she learn all the deep breathing techniques?
Carly talks about a spa called West Baden in Indiana (the book takes place in Vermont). In the next chapter, she drives 30 minutes to the next town over to check out the West Baden Spa. Those details make it hard for me to get into the fictive story world. I kept getting pulled out to flip back and make sure that I understood the previous comment and then reading the current page again. 
The "hero" that Carly is crushing on, anyone can see that he's a self-centered jerk, but Carly is sure he's the thinking about a future with her.
The other reviews I've read of this book were quite glowing, so maybe it was just me.
I was furnished a free e-copy of this book from Thomas Nelson, in return for an honest review.