If Starbucks announced they were making sheep's milk cheese in addition to coffee, I'd be cautious about trying it. If Toyota went into the burger business, I'd be skeptical. If McDonald's announced a foray into fine dining, I'd have some doubts.
Susan May Warren's contemporary stories have long been at the top of my favorites list. I knew she'd written a few historicals but couldn't bring myself to try them. What if I didn't like them? Would they ruin the contemporaries for me?
I just finished her Sons of Thunder with a sigh of relief.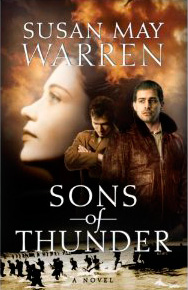 It's very good.
I love how Susie weaves her plot lines together and creates a deep and compelling story with honest and flawed and real characters.
Sons of Thunder is about two brothers and the woman they both love. It's pre-World War II. Markos Stavros and his younger brother Dino flee their Greek home on the island of Zante when tragedy erupts. Also on their boat is Markos's friend and love, Sofia.
They make it to Chicago and get swept up in the gangster wars. The trio is separated and each builds a new life. War and circumstances bring them together again. But each has done terrible things to survive. Their journeys bring them back to God as well as to each other.
I don't want to give away too much of the plot, but will say Sons of Thunder is worth reading. It won't ruin your appetite for contemporary Susan May Warren stories. In fact, it may encourage you to run out and buy a few. I went ahead and requested one I missed from the library and picked it up today!